Starting a successful jewelry business in the UK is no easy feat, but you can do it with the proper preparation and knowledge. The key to success lies in thoroughly understanding the industry and knowing how to market and promote your products effectively.
This guide covers everything you need to know about breaking into the UK jewelry business. We'll cover market research, product design, sourcing materials, and suppliers, getting your jewelry certified, and more.
What Do You Need to Know About the UK Jewelry Market?
Breaking into the UK jewelry market can be exciting and potentially lucrative. With a population of over 65 million, there's a massive demand for all types of jewelry, from antique to modern, from silver to gold. But before you jump in and start stocking your shelves, you need to know a few essential things about the UK jewelry market.
The UK has one of the world's most heavily regulated jewelry markets. Understanding the legal requirements for selling jewelry to protect yourself and your customers is essential. For example, it's illegal to sell jewelry containing non-precious metals without labeling it as such, and you must also meet various standards for authentication, hallmarks, and more.
How to Find the Right Supplier for Your Business
Finding the right supplier for your business can be daunting, but it doesn't have to be. To get started, look to suppliers already established in the UK jewelry market. Consider their reputation, customer service, and product variety.
Next, research their pricing structure. Find out what they charge for individual items and if they offer any discounts. It's important to ask questions upfront. Do they offer bulk discounts? Are their prices competitive? Could you negotiate better deals with multiple suppliers? Read reviews from other businesses that have purchased from the supplier you're considering.
The Different Types of Jewelry Businesses in the UK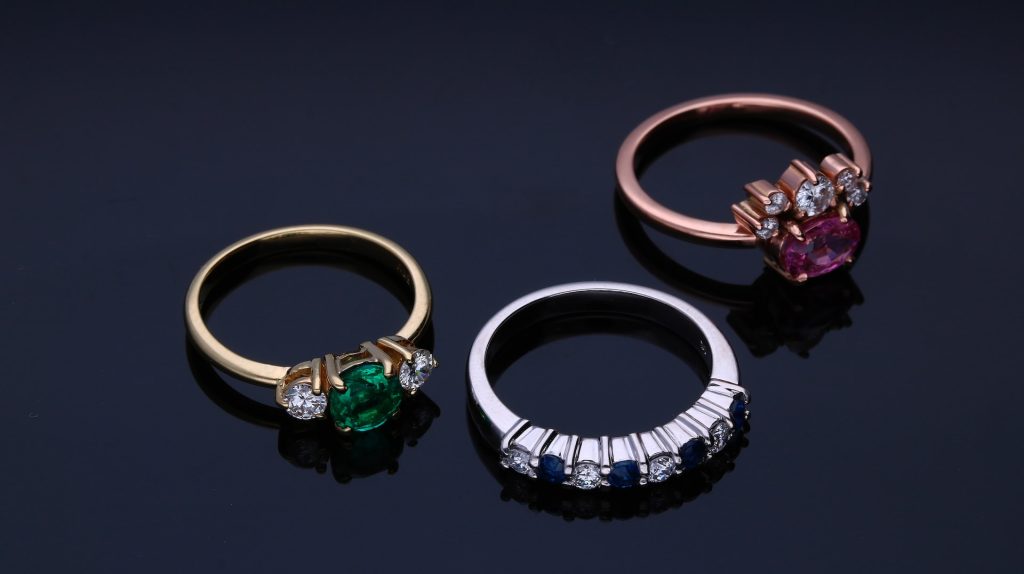 The UK jewelry market has various businesses, from traditional high street stores to online suppliers.
Each type of business offers its unique advantages and disadvantages, so it is essential to weigh up which one is suitable for your particular plans:
High Street Shops
Having a physical presence in the UK can be highly beneficial, helping to gain customers' trust. However, renting premises and stocking inventory can be costly.
Online Stores
You can reduce your costs significantly by operating exclusively online. You can find Jewelry online and get the best price on your demanding jewelry.
E-commerce Marketplaces
You can access their large customer bases without investing in your website or advertising campaigns by selling on third-party platforms such as Etsy or Amazon. However, as fees for these services are often higher than those charged by independent e-commerce sites, you might have lower profit margins per sale than other business models.
How to Market Your UK Jewelry Business
Marketing is an essential aspect of any business, including a jewelry business. Here are some strategies that you can use to market your UK jewelry business.
Define your target audience.
Create a brand identity.
Develop a website.
Use social media.
Participate in events.
Offer promotions and discounts.
Develop a referral program.
Utilize email marketing.
Crafting a Business Plan for a UK Jewelry Business
Crafting a business plan for a UK jewelry business is essential for success. Here are the key elements you should include in your project:
Define Your Business Concept.
Conduct Market Research.
Develop a Marketing Strategy.
Set Up Your Business.
Create a Financial Plan.
Develop an Operations Plan.
Secure Funding.
Monitor and Adjust.
Financing and Legal Considerations for Starting a UK Jewelry Business
Starting a jewelry business in the UK has many financial and legal considerations that must be adhered to stay compliant and ensure success.
1. Financing
One of the first steps is to secure adequate funding. Researching various financing options and finding one that works best for your business is essential. Business loans, grants, investments, crowdfunding or personal savings are valid options when looking for startup capital.
2. Registering Your Business
The next step is registering your business. You must register for Value Added Tax (VAT) in the UK. This process usually takes around five days and will involve setting up a business bank account. You must also register for self-assessment with HMRC (Her Majesty's Revenue and Customs) if you plan to be self-employed.
3. Insurances
Once your business is registered, it's time to look into insurance policies. Having the right insurance policies in place will protect you and your business from any legal or financial issues that might arise down the line. Ensure a comprehensive approach covers product liability, cyber security, public liability, and employer's liability insurance.
Conclusion
In conclusion, breaking into the UK jewelry business requires strategy, planning, and research. Even with the proper knowledge and resources, there will still be obstacles to overcome and many uncertainties. However, if you take the appropriate steps and use the right resources, you can become a successful jewelry entrepreneur in the UK. By understanding the industry's various rules and regulations, familiarizing yourself with the key markets, and developing a unique product, you can be well on your way to doing a successful jewelry business in the UK.